We are no longer providing travel immunizations/consultations

The Ohio State University Rardin Travel Clinic is available for your travel health needs. Please call 1-614-293-2700 extension 3 for an appointment.

If you are a previous patient we will be happy to provide your medical records at no charge. Please fill out the "Authorization for Release of Travel Medical Records" form below and fax it to our office at 614-224-9107. Let us know if you want your records faxed, e-mailed, or US mailed and provide an accurate address.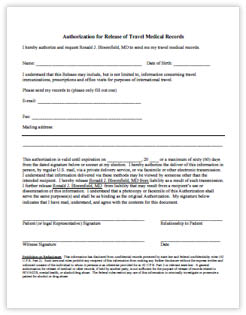 Download the "Authorization for Release of Travel Medical Records" form
* ************** bottom ************************* */>
Last Modified November 2016
---
---
* **************end bottom ************************* */>